What does Ink Bendy look like in the prototype?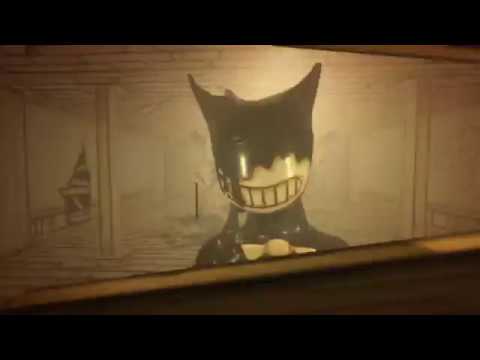 What does the cutout reveal about bendy's true identity?
Bendy's cutout reveals himself to originally have his gloves each with three darts instead of two buttons, and the fact that his index finger was closer to his hand. The cutout also appears to be entirely flat as if made of paper instead of cardboard.
Where can I download the prototype?
The prototype can be downloaded from here. Credit goes to the Steam user Micah for the download. It can be used by both 64-bit and 32-bit. You can also download this version and other old versions here: https://itsrize.itch.io/batim-betas
What is the prototype of Little Devil Darling?
An early version of Little Devil Darling that plays when the Ink Demon jumpscares Henry when going near the Ink machine room boarded up. The prototype also lacks a punch card stand, a running ability, and unlockable achievements. No cans of Bacon Soup can be found anywhere in this prototype.